Wednesday, November 22, 2006
First, let me add a bit to my last post. After thinking about it, I realized that I might discourage people from upgrading to the new Blogger Beta. That was not what I had in mind at all. Go ahead and upgrade, although I would sure appreciate it if you could drop me a line first. If you don't, though, I'm sure I'll notice when the site stops updating.

Onwards and upwards...

Mug Shots #2. Way back in the distant past I thought I had discovered Duane Swierczynski's secret identity: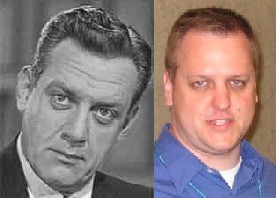 Later, I realized that this might present some practical problems, since Raymond Burr has been dead since 1993. But as so frequently happens, I opened my mind to a solution, and it appeared via Monday Night Football. There! On the sidelines! It's Jacksonville Jaguars coach Jack Del Rio!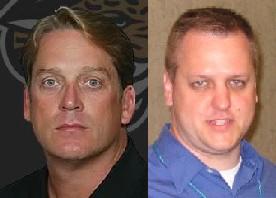 ...or is it? The really odd thing is that all three (?) of these guys are beefy linebacker types, and of course Del Rio was a linebacker. If you see Duane wearing a Reebok suit and tie, well, there's your proof.

Pyscho Noir. The new Psycho Noir issue of Hardluck Stories is now online. Before I get to the stories, I have to mention the artwork by Jean-Pierre Jacquet. In addition to the very creepy picture on the title page, he's also done an illustration for each story, and they add a lot to the atmosphere.

Complete contents:

"Church Social", by Pearce Hansen
"Boa Constrict Her", by Craig Corey
"The Prettiest Face In Hell", by Jon Bassoff
"Yellowhead", by Raymond Embrack
"51-50", by Paul Marks
"West Texas Waitin'", by Kay George
"Amigo", by William Tanner
"Hole In The Wall", by Patricia Abbott
"Mason's End", by Richard C. Rogers
"Poor Box", by William Boyle

Out of pocket. I'm going out of town for Thanksgiving, so if the site gets hosed up, too bad! Although I will offer a full refund to anyone who complains.

I hope everyone has a nice holiday weekend. See you back here next week.
posted by Graham Powell at 8:22 AM